Vehicle Impounded?
Coronavirus (COVID-19) update regarding impounded vehicles
No matter what type of vehicle, equipment or machinery you need to move, Sandy's Towing and Recovery has the transport trailer and know-how to handle the job. Our transport trailer fleet includes tilt-deck, detach, sliding-axle, flatbed, van and reefer trailers.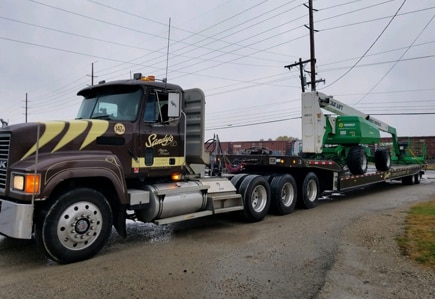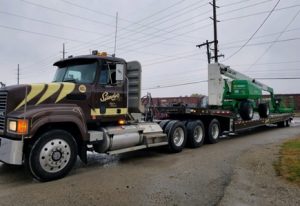 Some of the items we transport for our customers are buses, excavators, bulldozers, backhoes, boom lifts, scissor lifts, rental equipment, generators and steel coils.
Our 75-ton rotators can be used with our trailers for jobs such as lifting air conditioning units onto building roofs, setting heavy machinery inside buildings or removing machinery, transporting boats for auctions and lifting or winching aircraft for relocation.
Sandy's Towing and Recovery's transport division is permitted in 48 states. We respond quickly, provide accurate ETAs and our transport trailers are stocked with all the necessary equipment and proper securement to move your cargo safely and damage-free.
Construction moving equipment
Material Handling Equipment
JD Allen
They were very easy to deal with, professional, and nice. I called, they came, and there was no nastiness or fussing. James was the tow guy who came out. He was great..!;) Thanks Sandy's Towing!
Jim Jackson
WOW! Wayne from Sandy's Towing came to give us a tow and asked if we knew what was wrong with our car. I said it was the alternator and was picking one up. He took the car to our house and that could have been the end of it. Wayne stayed with us and helped put the new alternator in...when I say "helped" I mean he did it while we watched. THANK YOU WAYNE! Above and beyond service, super friendly, and we learned some things. I can't thank you enough
We are the best
Roadside Assistance
Light duty
Heavy Duty
Transport
Tow Truck Business in Dayton ,Ohio