Welcome to Sandy's Towing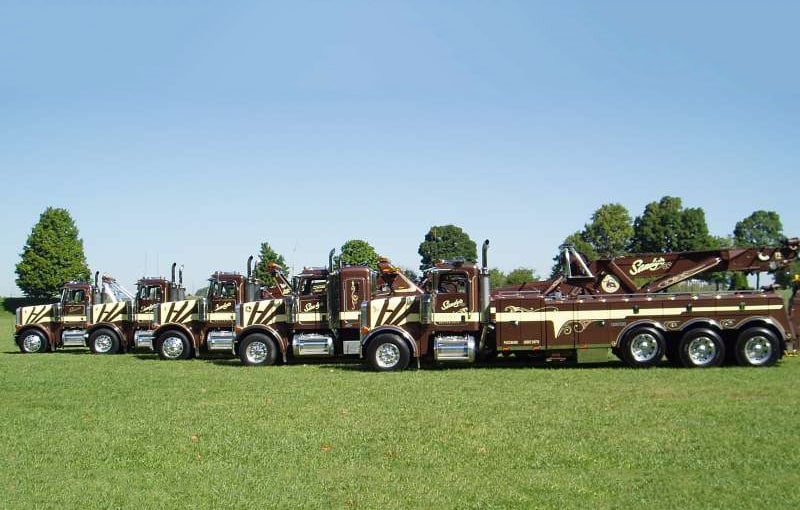 Sandy's Towing and Recovery is the premier towing service for Dayton and southwestern Ohio. Whether you need a tow or vehicle recovery, roadside assistance or vehicle/equipment transport, we can assist you with the highest level of service and the fastest response time — 24 hours a day, 365 days a year.
Sandy's Towing and Recovery has served Southwest Ohio for over 60 years, providing quality service with the best equipment, and is the preferred towing company of the Dayton area.
"

You guys did a great job moving my truck and not taking a long time coming to pick up my truck.you were very nice thank you.💘
"

Your service was exactly what I needed in a timely fashion. The driver I had was very pleasant and curtious. Thank you.
"

Very prompt and and my driver says he was very polite thank you
"

Moorman's Towing 🌟🌟 🌟 🌟 🌟
"

Fast,curtious and professional!
"

He was earlier than expected and very polite.
"

Showed up quicker than forecasted. Operator was friendly and knowledgeable. Inspired confidence in leaving my car in their hands.
Mar 15, 2018,
Michelle W.
"

Top quality equipment and professional operator
Mar 14, 2018,
Victoria B.
"

Paitiently waited at my preferred drop off while I dealt with the representatives who weren't updating the address for the driver.
"

Very professional service. Driver was very respectful and quick. Would you for any service in the future. Also very affordable.
"

Excellent service no complaints
"

Was 45 minutes late for appointment I had scheduled for the rotator but besides that was great service
"

Very quick response!! And very professional!!
"

Great experience. Driver showed up earlier than predicted and was polite and helpful. Recommend
"

Thank you for showing up as fast as you did. Your service is 5 star.
Mar 14, 2018,
Lawrence H.
"

Great service! If I need a tow will do business with them again! Highly recommend!
"

Very prompt great service
"

The tow truck driver was pretty nice and I have zero complaints.
Mar 14, 2018,
Julie E. K.
"

Great job. Thank you. 5 star
"

Beau was great was very professional. Good people person. Koodose Beau job well done.
"

Timely, experienced, kind, and knowledgeable
"

Prompt and dependable on a Saturday. Friendly and reliable driver.
Mar 13, 2018,
Ymca O. G. D.
"

We always use Sandy's. They are Always on time.
"

Joe was great, helped me jump my car and gave great advice as to what my next step with my car should be.
"

Even though I was quoted 94 and paid 113 the service was good. Waited longer then the gentleman quoted but the driver was excellent
"

Very polite and quick service!!
"

Friendly staff. Quick service. Straight forward.
"

Very fast and professional
"

Professional, friendly, took over two hours, but luckily I wasn't in a hurry. Thank you!
"

Really considerate with helping me out given my situation.
"

Great service. Appreciate your help
"

Prompt, good communication.
"

Super easy and very nice
"

Sandy's Towing has always given me and my family excellent service. I especially want to give a special thank you to Angela at the front counter. She has always been very pleasant even after dealing with customers that were totally rude to her. She deserves a big raise for all that she endures!!!
Powered by
Whiterail
Disclosure
The reviews displayed may or may not be a complete set. Reviews may be removed if they:
i. Are abusive. An abusive review or comment is one that makes personal attacks, threatens, or harasses others, or uses profanity.
ii. Violate privacy. Reviews that mention specific names of individuals or personal information in a manner that is inappropriate and/or unrelated to the performance of the service rendered are subject to removal.
iii. Are not from a current customer.
iv. Contain material falsehoods.
v. Are deemed inappropriate.
To encourage all feedback, positive or otherwise, an equal incentive for reviews, regardless of rating, may have been provided to the reviewer.