Welcome to Sandy's Towing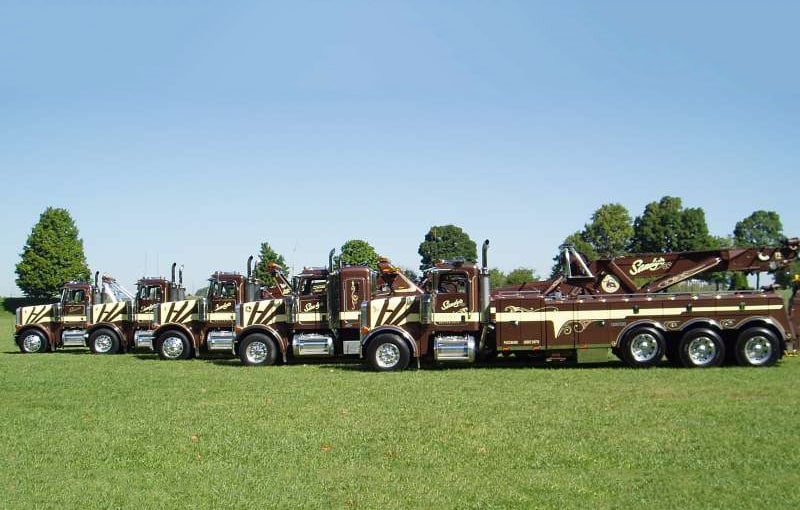 Sandy's Towing and Recovery is the premiere heavy-duty towing service for Dayton and southwestern Ohio. Whether you need a tow or vehicle recovery, roadside assistance or vehicle/equipment transport, we can assist you with the highest level of service and the fastest response time — 24 hours a day, 365 days a year.
Sandy's Towing and Recovery has served Southwest Ohio for over 60 years, providing quality service with the best equipment, and is the preferred heavy-duty towing company of the Dayton area.
Your Best Option For Dayton 24hr Heavy Towing
Heavy-duty vehicles like trucks can't be towed with standard equipment. Luckily, the fleet at Sandy's Towing and Recovery can comfortably handle heavier vehicles. We offer towing units with a 20-ton capacity as well as rotators with an impressive capacity of 75 tons. Our staff has extensive experience with heavy-duty towing and can make sure your vehicle is transported safely.
24-Hour Towing In The Dayton, OH Area
We have staff on-hand to take calls 24 hours a day, 7 days a week. You won't be greeted with an answering machine when you call our offices. You'll have the opportunity to speak with a real person that will send one of our trained towing operators to you as quickly as possible.
We have offices throughout the Dayton area. In addition to our two offices in Dayton, we have locations in Fairborn, Middletown, Moraine, Springboro, Vandalia, and Xenia. You can count on us to reach you quickly. When we send a tow operator your way, we'll provide you with an ETA so that you know when to expect us. Even if you're outside the Dayton area, we'll respond to service calls anywhere in the United States.
"

The guy was friendly & knew about my problem! Thank you sooo much for your help much appreciated!
"

These guys showed up promptly ahead of their estimated time and safety towed my car. The driver was courteous and professional. Good job guys!
"

Excellent service. Driver was courteous and on time.
"

Punctual, courteous,and professional service!
"

I tried the awesome link but it did not work. Thank you for professional service and taking care with my car.
Feb 18, 2020,
Pamela A. H.
"

I believe he (I'm sorry I didn't catch his name, he may have told me but my memory sucks) showed up a couple minutes before his ETA (thankfully!) & he was super nice! I will be referring this company!! Thank you so much!
"

Very professional. Driver was caring/careful in towing my vehicle. Friendly. Came on time, some earlier. Thanks, George. Kipmauchamer.
"

Very nice and professional made it so easy..
"

Would recommend sandy towing to everyone the service was awesome the driver was friendly and polite very professional at his job
"

You guys did a great job moving my truck and not taking a long time coming to pick up my truck.you were very nice thank you.💘
"

Your service was exactly what I needed in a timely fashion. The driver I had was very pleasant and curtious. Thank you.
"

Very prompt and and my driver says he was very polite thank you
"

Moorman's Towing 🌟🌟 🌟 🌟 🌟
"

Fast,curtious and professional!
"

He was earlier than expected and very polite.
"

Showed up quicker than forecasted. Operator was friendly and knowledgeable. Inspired confidence in leaving my car in their hands.
Mar 15, 2018,
Michelle W.
"

Top quality equipment and professional operator
Mar 14, 2018,
Victoria B.
"

Paitiently waited at my preferred drop off while I dealt with the representatives who weren't updating the address for the driver.
"

Very professional service. Driver was very respectful and quick. Would you for any service in the future. Also very affordable.
"

Excellent service no complaints
"

Was 45 minutes late for appointment I had scheduled for the rotator but besides that was great service
"

Very quick response!! And very professional!!
"

Great experience. Driver showed up earlier than predicted and was polite and helpful. Recommend
"

Thank you for showing up as fast as you did. Your service is 5 star.
Mar 14, 2018,
Lawrence H.
"

Great service! If I need a tow will do business with them again! Highly recommend!
"

Very prompt great service
"

The tow truck driver was pretty nice and I have zero complaints.
Mar 14, 2018,
Julie E. K.
"

Great job. Thank you. 5 star
"

Beau was great was very professional. Good people person. Koodose Beau job well done.
"

Timely, experienced, kind, and knowledgeable
"

Prompt and dependable on a Saturday. Friendly and reliable driver.
Mar 13, 2018,
Ymca O. G. D.
"

We always use Sandy's. They are Always on time.
"

Joe was great, helped me jump my car and gave great advice as to what my next step with my car should be.
"

Even though I was quoted 94 and paid 113 the service was good. Waited longer then the gentleman quoted but the driver was excellent
Powered by
Whiterail
Disclosure
The reviews displayed may or may not be a complete set. Reviews may be removed if they:
i. Are abusive. An abusive review or comment is one that makes personal attacks, threatens, or harasses others, or uses profanity.
ii. Violate privacy. Reviews that mention specific names of individuals or personal information in a manner that is inappropriate and/or unrelated to the performance of the service rendered are subject to removal.
iii. Are not from a current customer.
iv. Contain material falsehoods.
v. Are deemed inappropriate.
To encourage all feedback, positive or otherwise, an equal incentive for reviews, regardless of rating, may have been provided to the reviewer.