Sandy's Towing & Recovery provides heavy duty towing service to customers with medium to heavy-duty equipment. Sandy's has the ability to handle the heaviest of trucks and equipment because we have a large, versatile fleet that allows us to do so.
The Sandy's Towing and Recovery heavy-duty fleet features units with capacities ranging from 20-tons to our two state-of-the-art 75-ton rotators. We are ready for any heavy trucking need — from simple breakdowns to major accident recovery.
We tow large commercial vehicles for major trucking companies, municipalities, refuse companies, dealerships and more. Our offices are fully-staffed 24/7 with live dispatching (no answering machines) and our equipment is operated by trained professional, uniformed drivers.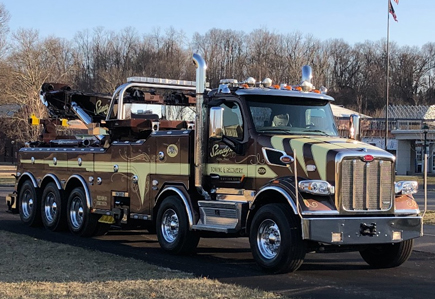 Our rotators can safely and efficiently lift, upright and recover any large commercial vehicle (tractor-trailers, cement trucks, mobile cranes, transport trailer combinations, etc.) with minimal highway traffic lane blockage. They also perform recoveries quicker, lessening the time on-scene and the potential for secondary traffic incidents.
We use specialty equipment to handle major heavy-duty incidents such as air cushion recovery — which enables our operators to upright loader tractor-trailer combinations without the need to offload cargo — and our heavy-response trailer with cut saws, area lighting, spill containment, etc.
Sandy's Towing and Recovery can also handle load shifts and cargo unloading, and stock all the right equipment including all-terrain loaders, articulating boom loaders, skid steers, mobile loading dock and tractor/trailers for transferring loads.
We can fully accommodate tractors, trailers, and cargo in our secure fenced and lighted storage facility that is video-monitored around the clock.
Sandy's Towing and Recovery provides fast ETAs and will respond anywhere in the United States.
HEAVY DUTY TOWING NEAR ME
Improper towing could cause your truck to be damaged. We go above and beyond to prevent any damage to your vehicle. Our cutting-edge rotators are capable of safely transporting semis, construction vehicles, and other types of heavy-duty equipment.
We're able to avoid causing harm to the vehicles we tow even when they're in risky situations. For example, we're able to lift and move vehicles that are stuck in the mud, and we can transport vehicles that are in insecure positions. Our rotators are capable of lifting heavy machinery that has rolled over so that we can move it in an upright position.
WE CAN HELP WITH PRECARIOUS SITUATIONS
If your heavy-duty vehicle has been in an accident, we're here to assist you. Our air cushion recovery equipment allows us to lift your vehicle or place it into an upright position without unloading or damaging any of its cargo. We can place cushions beneath your tanker or trailer and slowly inflate them, allowing us to move the vehicle with minimal damage.
Our area lighting allows us to assess situations at any time, day or night. If it's necessary to unload cargo, we can store it in our secured monitored facility until you're able to recover it. We have all the equipment needed to unload heavy-duty vehicles, including a mobile loading dock and articulating boom loaders.
Our heavy-response trailer is equipped with cut saws and spill containment equipment. If your heavy vehicle has been involved in an accident, we're here to help. From winch outs to undecking to load transfers, we can provide the services that you need.
Whether you're dealing with a piece of heavy machinery that's been tipped on its side or a truck that's been driven into a ditch, Sandy's Towing can help. Call us at (937) 236-2845 or (937) 268-6100 to request heavy duty towing or recovery services.